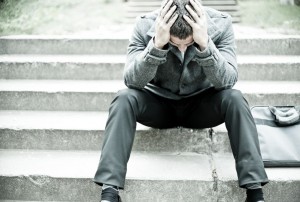 An estimated 14.8 million adults in the U.S. suffer from major depressive disorder, according to the National Institute of Mental Health. An additional 3.3 million live with dysthymic order, or mild depression. The Centers for Disease Control and Prevention reports approximately one-tenth of American adults are currently depressed.
Depression can affect emotions, sleep patterns, eating and thinking. Depression can also impair a victim's ability to handle basic daily tasks. Clinical depression is the top cause of disability among people in the U.S. between ages 15 and 44, according to the NIMH. Fortunately, people who suffer from depression in Chicago, Illinois, may qualify for Social Security Disability benefits, if the condition prevents them from working.
Qualifying conditions
The Social Security Administration recognizes affective disorders, including depression, in its "Blue Book" of impairment listings. People who suffer from depression may qualify for benefits by documenting the condition and proving they meet the standards outlined in the Blue Book.
First, individuals must exhibit at least four specified symptoms of depression. The SSA recognizes several symptoms, including apathy, low energy, difficulty focusing, suicidal thoughts, changes in appetite and altered sleep patterns. Additionally, depression must affect the individual in at least two of the following ways:
Making daily tasks difficult
Preventing appropriate social functioning
Impeding concentration
Causing escalating episodes of decompensation, or loss of function due to worsening of symptoms
The SSA may also recognize a chronic episode of depression lasting longer than 2 years as disabling. The affected person must rely heavily on close social support or appear likely to decompensate if his or her situation changes.
Individuals who do not meet these criteria may still obtain disability benefits by seeking a medical-vocational allowance. This allowance is granted to people who cannot perform simple work and suffer from conditions that do not directly match a Blue Book listing.
Documenting the disorder 
People filing for SSD benefits should fully document the disabling condition. For affective disorders, appropriate documentation includes the diagnosis, prognosis, treatment records and medications taken. If adverse side effects associated with any medications cause functional impairments, those effects should be documented. Applicants also should provide proof of other physical or mental conditions that interfere with their ability to work.
People who do not meet the SSA's Blue Book criteria should have a medical professional complete a Residual Functional Capacity form. An RFC evaluates an individual's ability to perform daily activities, such as focusing and interacting socially. An RFC can provide an accurate evaluation of a person's ability to work, which may not be clear based on medical records alone. This evaluation can be decisive for applicants with symptoms or side effects that diverge from the SSA's Blue Book criteria.