Social Security Disability Benefits in Chicago, IL
Everyone needs a reliable source of income to support themselves and their families.  However, taking care of your family and keeping up with your bills is nearly impossible if an illness or disability prevents you from working full time.  Fortunately, it is possible to get benefits if you cannot work full time due to a documented injury or illness through the Social Security Disability Program from the Social Security Administration (SSA).
Our disability attorneys at Good Law Group can help those who are eligible in Chicago, IL obtain Social Security Disability (SSD) or Supplemental Security Income (SSI) benefits.  With over 30 years of legal experience in Social Security Disability Law, you can trust our attorneys to help you every step of the way as you work to prove your eligibility for SSD benefits.  We can help ensure that you have submitted the proper paperwork with your application and represent you through the reconsideration and appeals processes.
You can learn more by calling our social security disability attorneys at (312) 629-1212 or submitting a contact form.  We will start with a free case evaluation and you will not have to pay any out of pocket costs if we cannot secure your SSD or SSI benefits.
Why Hire Disability Attorneys?
Social Security Disability and Supplemental Security Income benefits provide those who cannot work full time due to a disability or illness with necessary income to support themselves and their families.  The process of obtaining SSD and SSI benefits is complex and can be difficult to navigate without representation.  At Good Law Group, our attorneys only deal with matters concerning social security benefits and we are familiar with the legal procedures involved.  Social Security Disability Law has its own specific processes, courts, and judges and it helps if you work with our experienced attorneys who understand SSD law and can give you the best chance of getting benefits.
Our attorneys can help you through every step of obtaining your SSD and SSI benefits including submitting your application and providing representation in the appeals process.  We have an office in downtown Chicago, IL where we can meet with you face to face and work closely with you on your case.  Our attorneys are familiar with the judges, healthcare providers, and Social Security office workers in the local system.
First Time SSD Applicants
Our Attorneys Help Submit Your SSD Application
As if the SSD application process isn't complex enough, it is especially difficult to navigate as you deal with your illness or injury and stress over how you are going to support yourself and your family.  You also must understand that your initial application is likely to get denied as an error or lack of proper paperwork causes 65 percent of first-time applications to be denied.  Of the applications that are denied, 91 percent of them go up for reconsideration through the appeals process.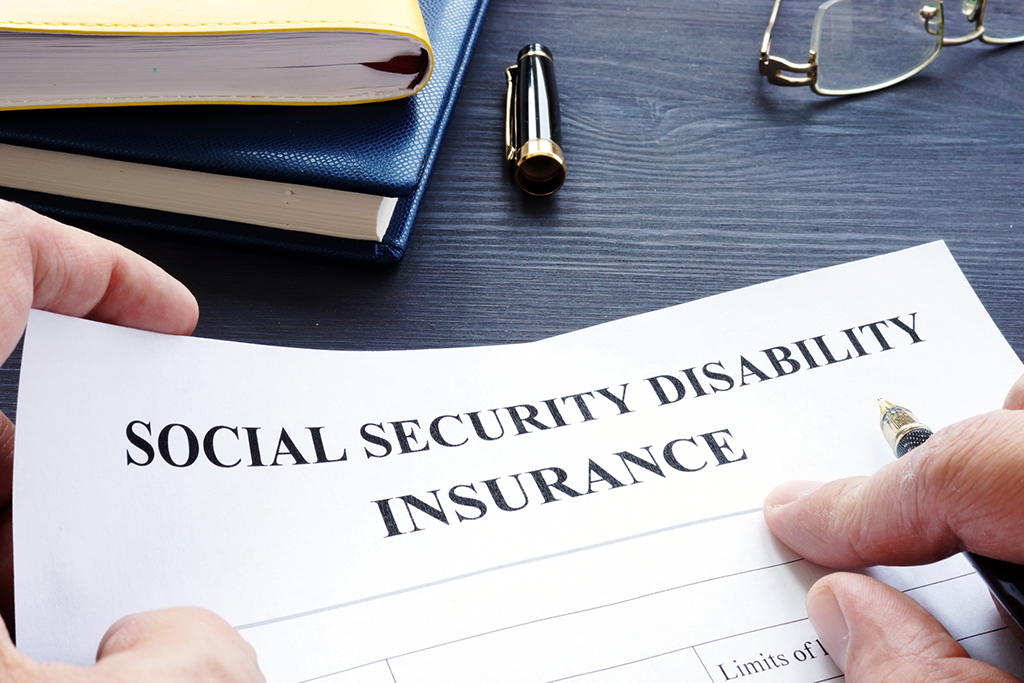 To increase your chance of being approved, you need to make sure the application is completed correctly and accompanied with the proper documentation.  The appeals process is usually drawn out and will delay your benefits which is why it is in your best interest to ensure that your application is complete and filled out correctly  Our attorneys understand why applications are denied by the Social Security Administration and we will help you get the proper paperwork together and avoid mistakes that can cause a denial.
You can work with our social security benefits attorneys through these steps:
Application: Our attorneys can help you complete your application and ensure it is filled out correctly and submitted with the proper documentation. Approximately two-thirds of applications for SSD and SSI benefits are denied, and our attorneys know which mistakes are most likely to get your application denied.
Reconsideration: Our attorneys will file a note of intent to appeal and provide you with representation during the reconsideration review.
Hearing: Our attorneys can provide you with legal representation and help present your case to the Administrative Law Judge (ALJ) during hearings for your application.
Appeals: We can provide representation and file an appeal on your behalf to have your case reviewed by the Appeals Council.
Federal appeal: Our attorneys can provide representation and help you through the extremely complicated federal appeals process.
Social Security Disability Attorneys in Chicago, IL
If you want representation in Chicago, IL as you apply for SSD or SSI benefits or work through the appeals process, call our attorneys at Good Law Group.  You can reach us by phone at (312) 629-1212 or submit an online contact form.  We will not charge you any out of pocket cost unless we can get your SSD or SSI benefits.
What more can I say other than Neil Good did what others couldn't, he saw my claim through to the end, which for me was a favorable judgment for benefits from one of the toughest judges my county has. His impeccable job in preparing not only my case but me also, made all the difference. I knew exactly what to expect when I walked in that courtroom and because of that I was able to answer all of the questions asked if me with no problems. Thank you again Mr. Good from me and my wife and kids
The Good Law Group helped me with my social security disability. I can't say enough about how they treated me like family and were always there to answer any and all questions no matter what time of day or day of the week. If you have any doubts let me put your mind at ease just make the call you will not be disappointed.
Shawn and Neil Good are the best disability attorneys in the Chicago area. Their professionalism, experience, and attention to detail added up to a stress-free, successful experience for me. I'm so glad I called The Good Law Group to handle my disability claim! Sincerely, Karen Schmitz
To schedule a free case evaluation with an experienced and caring Illinois Social Security Disability Lawyer, contact our office today. There are no out of pocket cost and no fees unless we are successful in helping you obtain benefits.