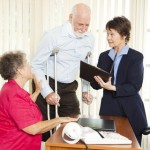 Not surprisingly, a poll on Social Security benefits finds that older Americans — 50 and older — are against raising the age at which people begin collecting full Social Security benefits. Older Americans also oppose reducing cost-of-living increases. At the the time time, this age group supports raising the cap on earnings (known as the taxable maximum), to provide more money for the program, from those who make more.
Currently, workers pay Social Security taxes on salary up to $113,700. In 2014, that figure will rise to $117,000, affecting an estimated 10 million workers our of 165 million workers. With an applicable rate for Social Security of 6.2 percent, the increase in the taxable maximum for 2014 means that someone who makes $200,000 a year would pay an estimated additional $204 for the year.
A total of 61 percent of respondents favored raising the cap, with 25 percent opposed. It was the most popular idea for improving finances, in the poll.
The information is contained in an Associated Press news story, following a survey by the AP-NORC Center for Public Affairs Research.
The AP-NORC Center survey was conducted Aug. 8 through Sept. 10 by the Associated Press at the NORC Center for Public Affairs Research, at the University of Chicago, with funding from the Alfred P. Sloan Foundation.