Do Social Security Disability (SSD) and Supplemental Security Income (SSI) Recipients Get Stimulus Checks?
According to the IRS, low-income taxpayers, senior citizens, Social Security recipients, some veterans and individuals with disabilities who are otherwise not required to file a tax return will receive stimulus checks. Social Security recipients are slated to receive $1,200 checks, not $600 as originally proposed. There will also be an additional payment of $500 per child under 17.
The law does not set a date for when the direct deposits and checks will be paid out, but the Treasury secretary has stated money will go out as rapidly as possible. The IRS website indicates "distribution of economic impact payments will begin in the next three weeks and will be distributed automatically, with no action required for most people."[1] (The IRS website published this on March 30, 2020, so three weeks would be around April 20, 2020.)
At this point, it is still unclear whether the money will be sent by mail or direct deposit, but preliminary reports indicate it is most likely to be paid to Social Security recipients via direct deposit.
Keep in mind, the Department of the Treasury, not the Social Security Administration (SSA), will make payments to eligible individuals. The Social Security Administration has asked recipients not to call Social Security about these payments as the agency does not have information to share.
If you are on Social Security Disability, What do You Need to do to Get Your Stimulus Check?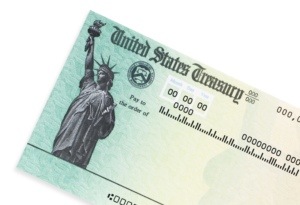 Again, things are happening very fast and things are changing equally as fast. While many Social Security Disability beneficiaries do not typically need to file a tax return, according to the IRS, "some taxpayers who typically do not file returns will need to submit a simple tax return to receive the economic impact payment."[2]
What has changed at SSA? [3]
On Tuesday, March 17, 2020, SSA suspended face-to-face service to the public at all offices nationwide until further notice.
All Social Security and Supplemental Security Income (SSI) payments will continue to be paid on time during the pandemic
Online services remain in full operation
Social Security hearings will be either by phone or postponed
Continuing Disability Reviews (CDRs) will be stopped
Overpayment processing will be stopped
SSA will not be conducting organization or individual representative payee accountings
SSA will not be able to process third party request for information, except from appointed representatives and representative payees
SSA will not process Freedom of Information Act (FOIA) requests
What Has Changed at Our Office?
For the health and safety of our team and our clients, we are currently in full operation from remote locations. We are taking new cases, and meeting with new and current clients via video and over the phone. We are still reviewing cases to determine if we are willing to accept them for Federal Court Appeals. The Federal Courts are not currently holding open, but we are able to file cases because there is a 60 day statute of limitations.
This situation is ongoing, and we will continue to monitor it and provide updates as they become available.
[1] https://www.irs.gov/newsroom/economic-impact-payments-what-you-need-to-know
[2] https://www.irs.gov/newsroom/economic-impact-payments-what-you-need-to-know