In 2021 1,334 people died in Illinois due to motor vehicle accidents; 180 of those deaths involved semi-trucks.[1] As of September 1, 79 of the 766 motor vehicle deaths in Illinois were due to truck accidents.[2] Tens of thousands more are injured, some severely, each year. The injuries caused by truck accidents can result in loss of income, expensive medical bills, and long-term pain and suffering.
If you or a loved one has been injured in a motor vehicle crash involving a truck, or if a loved one was killed in a truck accident, the truck accident attorneys at The Good Law Group can help.
What causes Illinois truck accidents?
Accidents involving cars and trucks happen for the same reasons as accidents involving regular automobiles, including speeding, intoxication, weather conditions, or drowsy driving. But other reasons are specific to the nature of truck driving and/or the increased size and weight of the trucks,  such as driving with an unbalanced load, cargo flying off the truck, not having the proper clearance when passing under bridges or overpasses, or lack of training on how to properly operate the truck.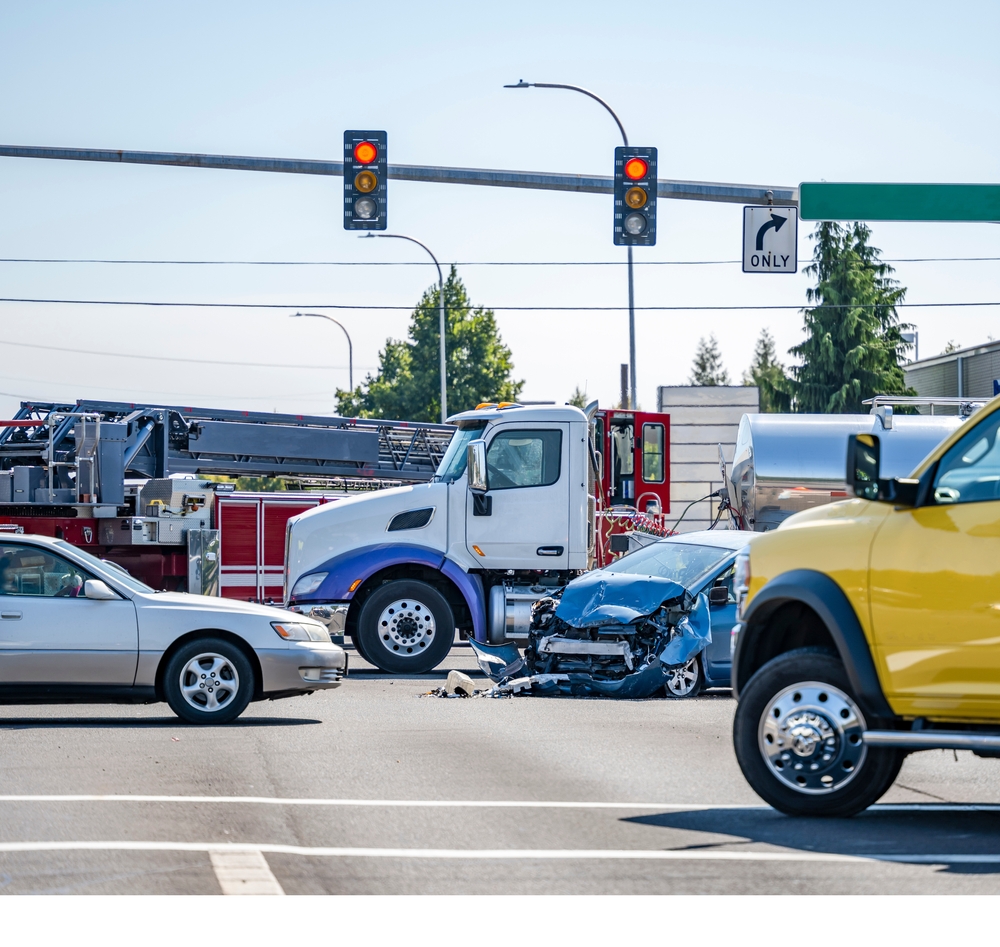 What should I do if I'm involved in an Illinois truck accident?
The first thing to do following any accident is to stop and call 911. Accidents must be reported to the police, and you'll want to request medical assistance for anybody who was injured. If all parties can remain at the scene, exchange information with the other driver(s). You will want to gather:
Driver's name and contact information
Driver's license information
Vehicle description, including make, year, and model
Insurance information
You should also record as many details regarding the truck as possible, such as the name of the trucking company and what it was hauling.
Failure to stop and exchange information could result in a misdemeanor charge.
Who is responsible if an Illinois truck accident causes injury or death?
Depending on the circumstances, multiple parties can be liable for injury or death caused by a truck accident. The truck driver can be liable if they were speeding, driving while intoxicated, or otherwise operating the truck in an unsafe manner. The trucking company may be liable for vicarious liability, which holds employers responsible for certain actions of their employees; they may also be liable for failure to properly maintain the vehicle, lack of training, or pushing drivers to violate federal and state truck driver regulations.
If someone other than the trucking company or the truck driver owned the truck, that person may be liable if the accident was caused by their lack of maintenance. The truck or parts manufacturer may be liable if the parts used to assemble the truck or the assembly itself were defective. The people who loaded the truck, along with the company they work for, may be liable if improperly secured cargo caused the accident.
What claims can I bring following a truck accident?
Truck accident lawsuits can be filed as either a personal injury or wrongful death based on negligence. Personal injury cases are filed by the people injured in the accident.
Wrongful death cases are brought by the surviving family members of a person who died in the accident; this is typically the surviving spouse and dependent children but may include adult children or parents. Wrongful death cases compensate the survivors for the loss of their loved one and the decedent's estate for any damages they incurred between the accident and their death, such as medical bills, loss of income, pain and suffering, etc.
What damages can I recover in an Illinois truck accident? 
Truck accident victims may be entitled to compensatory damages, which are pecuniary (economic) and non-pecuniary (non-economic) damages, and/or punitive damages.
Economic damages compensate the injured party for losses that have a specific dollar amount attached, or for which an actual amount can be determined. These damages are proven by bills, earning statements, and estimates of future losses as determined by an expert. They may include:
Past, present, and future medical bills
Past, present, and future lost wages
Future lost earning capacity
Property damage (for example, if the accident totaled your car)
Non-economic damages have no specific dollar amount attached. They may include losses for:
Pain and suffering
Loss of consortium (loss of family relationship due to the injury, typically between spouses)
Loss of enjoyment of life
Mental anguish
Permanent disabilities, impairment, or disfigurement
Punitive damages are awarded to punish the defendant and deter them, and others in their position, from engaging in the behavior that caused the accident in the future. They are typically only awarded in egregious cases. For example, if the cargo company has a history of loading errors, punitive damages may be justified to punish them for failing to take action to correct the issue.
Can I recover damages if I was partially at fault for the accident?
Illinois has adopted comparative negligence, also known as contributory negligence, in personal injury cases. This means if you were partially at fault, your damage award will be proportionately reduced. For example, if you were found to have been 30% responsible and suffered $500,000 in damages, the award will be reduced by 30%, entitling you to receive $350,000.
If you are found to have been 50% or more at fault, you are not entitled to any damages.
How long do I have to file a truck accident claim in Illinois?
Illinois law sets time limits, known as the statute of limitations, for how long a person must file a lawsuit. For personal injury and wrongful death claims, the statute of limitations is two years.
The statute of limitations begins to run on the day of the accident. If you miss this deadline unless there are exceptional circumstances to justify the late filing – for example, it took police four years to identify the driver in a hit and run – the judge will dismiss the case.
Truck accident cases are time-consuming and complicated due to the number of potential defendants and the need for expert testimony to prove damages. The truck accident attorneys at The Good Law Group leverage their 30 years combined experience to help people who have been injured in, or lost a family member to, a truck accident on Illinois roads receive compensation for their losses. Call us at 847-577-4476 to schedule a case consultation.
---
[1] National Highway Transportation Safety Administration Fatality Analysis Reporting System, cdan.dot.gov/SASJobExecution
[2] Illinois Department of Transportation, Illinois Fatal Crash Data for 2023, apps.dot.illinois.gov/FatalCrash/snapshot.html