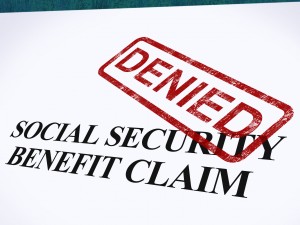 After disabling workplace injuries, many Illinois residents pursue Social Security Disability benefits. Unfortunately, disabled workers who are receiving workers' compensation do not always qualify for SSD. The two programs use different criteria to evaluate disability, so claim approval is never a certainty for workers' compensation recipients.
Distinct medical standards
The Social Security Administration only considers a condition disabling if it prevents a worker from performing any type of substantial gainful employment. Furthermore, the condition must be expected to last at least a year or result in death.
The workers' compensation system addresses short-term disablement through Temporary Partial Disability benefits or Temporary Total Disability benefits. The SSA, however, does not consider a condition disabling if it has a short duration or an uncertain prognosis.
Injured workers may also receive Permanent Partial Disability benefits. Some conditions that qualify for these benefits may not meet the SSA's strict disability standards. For instance, in Illinois, loss of vision in one eye merits PPD benefits. However, the SSA only considers this loss disabling if the individual's other eye has poor visual acuity, low visual efficiency or peripheral field contraction.
The SSA may even find that people who receive Permanent Total Disability benefits are not disabled. The workers' compensation system awards these benefits if workers cannot perform their previous jobs. However, the SSA only awards benefits to people who cannot perform any work.
Often, the SSA may determine that an injured worker can still perform light or sedentary work, possibly in a different field. However, this depends on the worker's disabling condition and method of proving disability:
Conditions listed in the SSA "Blue Book" of impairments are automatically recognized as disabling. If a condition meets Blue Book severity criteria, the worker receives compensation without direct evaluation of working ability.
Conditions equal in severity to Blue Book conditions are also automatically considered disabling.
Other conditions are evaluated based on their effects and the way they impede gainful employment. The SSA considers the worker's remaining functional abilities, employment history and education to determine whether the worker can pursue any kind of gainful employment.
Under these standards, even severely injured workers may not qualify for SSD benefits. 
Additional criteria
Even if a disabled worker meets medical SSD eligibility standards, the worker must also meet non-medical criteria. The worker must have an adequate earnings record to qualify for benefits. Workers who have not generated enough total earnings or worked enough in recent years may not be eligible for benefits.
Additionally, workers who receive larger workers' compensation payments might not qualify for SSD benefits. Total workers' compensation benefits and SSD benefits cannot exceed 80 percent of the worker's average wages. Significant workers' compensation benefits may reduce or mitigate SSD benefit awards.